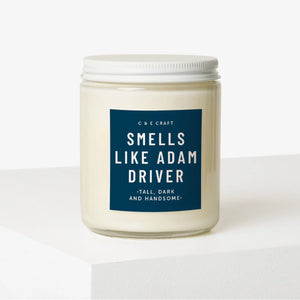 This candle smells like what I can only imagine the one and only Adam Driver smells like. This candle smells like Adam Driver in all his tall, dark and handsome glory.  
Adam smells like a cozy, homey blend of fine woods with strong notes of mahogany, cedar wood and oak, with middle notes of fresh, crisp green apple, and highlighted by delicate lavender and geranium. A staple scent for any home.
- Standard sized 8 oz jar with a burn time of approximately 35+ hours, perfect for bathrooms, dressers, countertops, and nightstands;
CE Craft is a small business based in Pennsylvania, USA, that takes pride in creating candles you'll feel good burning. They hand-pour each candle using all natural soy wax. Candles feature cotton wicks and burn clean. CE Craft candles are vegan and 100% safe and nontoxic for family, kids and pets.