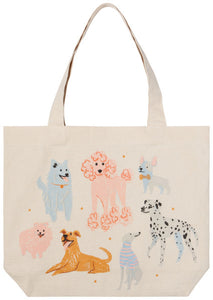 Generous cotton tote bags pack a lot of personality and more. Treasures from the farmer's market, library, or store fit with ease. The reinforced stitching and flat bottom allow for easy packing, and long handles make carrying a breeze.
Paws-itively playful patterns show that your furry friend means more than just puppy love. This collection fetches lots of smiles and wagging tails!
STYLISH TOTE: With a variety of sweet and charming designs, this generously-sized cotton tote bag packs a lot of personality. Treasures from the farmer's market, books from the library, or goods from the store fit with ease. Wash when dirty with cold water and hang to dry.
VERSATILE AND DURABLE: Use while shopping, at the gym, or at the beach. The base of this roomy tote features a flat bottom & reinforced stitching for easy packing. Long handles fit easily as shoulder straps, even when full. Measures: 18 in W x 15 in L. Made in India.